• If one member of a family was rejected, then it was up to the family to decide if they wanted to proceed into America or go back home. Usually, if the husband or the head of the household was rejected then the entire family would go home because the husband was generally the main breadwinner. If the mother or one of the daughters was rejected then often the family would split up with the rejected person going home and the rest of the family staying in America. Sometimes, another family member would accompany the rejected person back home. Thus, the number of immigrants who went home was higher than the official 2% rejection rate would suggest.
• You may come across an ancestor in the Ellis Island records who was accepted into the United States but then you cannot find any other record after that of the individual being in America. Consider the possibility they may have gone back home to the old country accompanying someone who was rejected.
• Often, families did not travel to America together. Be aware of this when looking for records. The more common pattern was for the husband (the main bread winner) to go to America a year or two before the rest of the family. The husband would get a job, get established and then earn enough money to pay for the passage of his wife and children. A variation of this might be an uncle, a brother or another relative (they were usually male) who arrived before the rest of the extended family. Therefore, when looking for immigration records on Ellis Island, always check for other relatives +/- 3 years from the date when you find a record for one of the family members.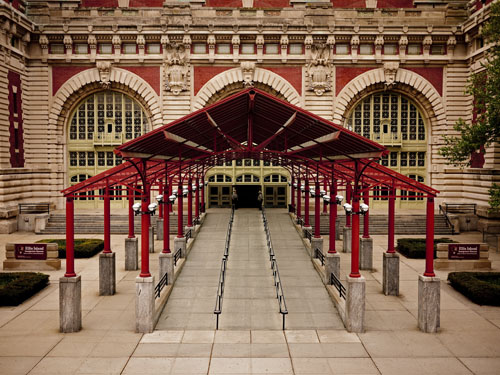 This is the main immigration building on Ellis Island. Ellis Island is worth a visit if you are in New York City. Special ferries depart from Lower Manhattan. In the summer, be prepared for a 2 hour wait to enter the building. Allow 1 to 2 hours to walk around. In total (including ferry time) allow about 5 hours to visit. Interestingly, this is about the same amount of time that it took the average immigrant to pass through Ellis Island.
• A common misconception is that immigration officers changed or anglicised immigrants' names. This did not happen. Many immigrants had their names changed, but it was not due to immigration officials. Instead, it was the responsibility of the officers aboard the ships that brought the immigrants to America to prepare the immigration documents. Many of these officers made mistakes in the immigration forms with the spelling of names and some of the ship officers were simply downright lazy.
• For example, consider an immigrant with the name like "Papadopoulos". The ship officers would sometimes write down an abbreviated name like "Papa" instead of spelling out the entire name. Be aware of this type of error when looking through Ellis Island records. It is more common than you might think.