Top 25 Most Popular Genealogy Websites
| | | | |
| --- | --- | --- | --- |
| Rank | Website | Category | Traffic Rank |
| 1 | Ancestry.com | ancestral records | 758 |
| 2 | MyHeritage | family trees | 3,251 |
| 3 | FamilySearch | ancestral records | 4,994 |
| 4 | Geni.com | family trees | 5,377 |
| 5 | Find A Grave | cemetery/obituary records | 5,470 |
| 6 | Archives.com | search engine | 6,674 |
| 7 | Genealogy.com | genealogy forum | 9,224 |
| 8 | Ancestry.co.uk | ancestral records | 9,545 |
| 9 | GeneaNet | family tree/ forum | 10,905 |
| 10 | MyFamily | genealogy forum | 14,533 |
| 11 | Ancestry.com.au | ancestral records | 23,755 |
| 12 | Newspaper Archive | historic newspapers | 24,156 |
| 13 | Arkivverket Digitalarkivet | ancestral records | 24,263 |
| 14 | FindMyPast UK | ancestral records | 27,331 |
| 15 | Genealogy Bank | historic newspapers | 27,894 |
| 16 | Ancestry.ca | ancestral records | 29,993 |
| 17 | Fold3 | ancestral records | 30,234 |
| 18 | GenealogyInTime Magazine | magazine/search engine | 32,318 |
| 19 | 23andMe | genealogy DNA testing | 32,718 |
| 20 | Genes Reunited | ancestral records | 34,781 |
| 21 | Eastman's Online Genealogy Newsletter | genealogy newsletter | 39,375 |
| 22 | Family Tree DNA | genealogy DNA testing | 41,213 |
| 23 | USGenweb Archives | ancestral records | 45,876 |
| 24 | Tribal Pages | genealogy forum | 52,388 |
| 25 | World Vital Records | ancestral records | 53,134 |
A couple of things to note:
• The top 10 genealogy websites have not changed at all from the top ten names from the Top 100 Genealogy Websites List published in January. The only difference is that Geni.com has slightly edged out Find A Grave for the #4 spot.
• Three names have modestly slipped slightly out of the top 25 list: FamilyLink (ancestral records, now #28), EllisIsland.org (ancestral records, now #29) and Sysoon (cemetery records, now #30).
• Three names have moved into the top 25 list: Arkiwerket Digitalarkivet (Norwegian ancestral records, now #13), Tribal Pages (a family tree website, now #24) and World Vital Records (ancestral records, now #25).
• There has been some modest rearranging of the other names in the top 25 list. For example, we would be remiss if we didn't mention that GenealogyInTime Magazine has moved to #18 from #20.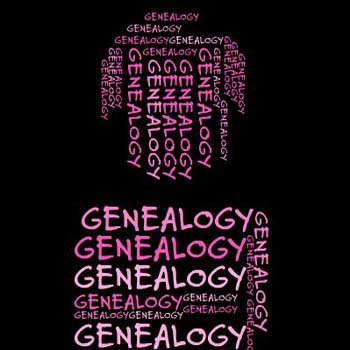 Genealogy continues to grow in popularity.
How Fast is Genealogy Growing?
The big question is how fast is genealogy growing? The answer it turns out is very fast. Here are some of the specifics:
• A total of 81 out of the top 100 genealogy websites experienced positive growth, 5 websites were neutral and the balance had negative growth.
• After adjusting for the size of the various genealogy websites, we found the average growth rate for the websites in the Top 100 Genealogy Website List for the first three months of 2012 was 21%. That is, in 3 months time, the field of genealogy grew by an amazing 21%. And remember this is before the release of the US 1940 census in April 2012, which will likely make future growth even faster.