A Date Guide to English Genealogy
Part II
English Genealogy in the 1700s
What You Need to Know:
• Genealogists often get confused by the difference between Great Britain and the United Kingdom. Great Britain is Scotland, England and Wales. The United Kingdom of Great Britain and Ireland is Great Britain plus Ireland and came into effect in 1800. In 1921, Ireland split into the Republic of Ireland and Northern Ireland and now the proper title for United Kingdom is the United Kingdom of Great Britain and Northern Ireland. These simple facts will make it easier for you to trace ancestral records.
What You Need to Know:
• Most English legal documents and church records prior to this date are written in Latin.
• The most common Latin entries found in parish records are baptizatus erat (baptized), nupti erat (married) and sepultus erat (buried).
• Regardless of the religion of your family today, chances are that your ancestors in England were Anglican. It has been estimated that by the early 1700s at least 95 percent of the English population can be found in Anglican parish records.
• Don't be intimidated by parish records written in Latin. Surnames were rarely Latinized and it is easy to read the months in Latin. The challenge lies in interpreting Christian names, occupations and relationships among family members, all of which were typically written in Latin.
• See the Genealogy Latin Dictionary to translate common Latin phrases found in English parish records and legal documents.
What You Need to Know:
• The earliest list of London merchants dates from 1677. In 1734 business directories in London were issued annually. Other large towns and cities in England began issuing business directories around the same time (although not always annually).
• Many genealogists tend to ignore early business directories, but they can be a valuable source of ancestral information. Not only do business directories list individuals, occupations and companies, but they also provide useful historical, topographical and statistical information. If nothing else, a scan through old business directories can give you an indication of the main landowners in a region and the major local industries that may have employed your ancestors.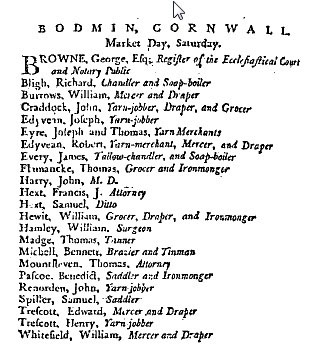 1783 Trade Directory for the town of Bodmin, Cornwall
• The Post Office issued directories beginning in 1800. Other companies that issued trade directories were Pigot & Co., Kelly & Co. and William White.
• The University of Leicester maintains an excellent digital library of local and trade directories spanning the period 1750 to 1919. Access is free. [Historic UK Trade Directories]
• The National Archives also maintain a list of online resources related to business history in the UK. [Historic UK Business Archives]