What You Need to Know:
• The age of marriage consent has changed several times over the years in England. Below is a concise table that summarizes all the changes:
| | | |
| --- | --- | --- |
| Year | Males | Females |
| | | |
| pre-1754 | 14 years | 12 years |
| March 1754 | 21 years | 21 years |
| July 1823 | 14 years | 12 years |
| May 1929 | 16 years | 16 years |
What You Need to Know:
• See the 1926 description for England and Wales. The same conditions applied to Northern Ireland.
What You Need to Know:
• Early telephone directories exist as far back as 1880, but they are not particularly useful for genealogists. The reason for this is that only the very wealthy maintained telephones in their house.
• Even in 1935 only 1 in 20 English households had a telephone, which is an important fact to remember if you expect to trace your ancestors through this route. In general, tracing your ancestors using old telephone directories is not very effective.
• British Telecom maintains a collection of early telephone directories. This collection has been put online at Ancestry. Access is by subscription. [Early British Telephone Directories]. As well, British Telecom has a free online publication that gives a brief history of how telephone numbers in Britain have evolved over time. [History of British Telephone Numbers]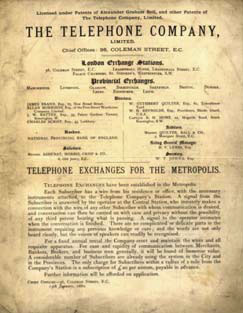 The first English telephone book from 1880 (courtesy of British Telecom).
• From a practical perspective, tracing an ancestor by telephone directory is best from the 1950s onward, which is the point in time when most households had a telephone. The exception to this would be if your ancestor ran a business, in which case they may have been an early adopter of the telephone.
What You Need to Know:
• This is the only time since 1801 that the ten-year national census is not held.
• Many ancestors were enlisted in the military during the Second World War, including women. Some good places to check for military records online are the Commonwealth War Graves Commission, which lists cemetery records of fallen soldiers, including both World Wars. Access is free. [Commonwealth War Graves] The London Gazette, which is also free, lists officer promotions. Access is free. [London Gazette]. These sites can be searched together using the free Genealogy Search Engine. As well, the National Archives maintains a variety of military records and merchant seaman records as well. Access is also free. [National Archives World War 2 Genealogy Records]. Here is another excellent page when looking for an ancestor at the National Archives. [Main Person Search Page at National Archives] As well, a variety of pay-per-view genealogy websites maintain military records that cover the Second World War and other periods. Finally, the BBC has an excellent article on how to research historic military records in the UK. [Researching Historic English Military Records]
What You Need to Know:
• Prior to this date, the surname had to be inferred from the surname of the parents. The place of birth was also listed for each parent.