How Genealogy Websites are Linked to the Internet
We also looked at how genealogy websites are linked to the internet using the link statistics gathered by Alexa, the internet people. By links we mean how many other websites link into any given website. Technically, these are called inbound links. Google considers inbound links to be very important to its search results. In general, a website with more inbound links from other websites will be given higher prominence in Google search results.
Obviously, more popular websites will have more links than less popular websites. To account for this, we normalized the results by dividing the number of links for a genealogy website by its popularity (reach) to see how efficient genealogy websites were in gaining links.
What we found was surprising. The five websites that were most efficient at getting links (relative to their size) were (in order) the Commonwealth War Graves Commission, Cyndi's List, USGenWeb Project, The Genealogical Society of Finland and Automated Genealogy. Interestingly, the top 14 websites that were the most efficient at getting inbound links were all free. The five websites that had the fewest number of links relative to their size were (in order) GenealogyInTime Magazine, Archives.com, Ancestry.de, British Genes and Anglo-Celtic Connections. [Editor's note: why do so few people link to GenealogyInTime Magazine?]
The really interesting tidbit we dug up, however, was when we compared free genealogy websites to pay websites. We found that even though free websites in the Top 100 Genealogy Websites List get 44% of the traffic, on a relative basis they get twice the number of links as pay websites. It would appear that people prefer to link to free websites more than pay websites.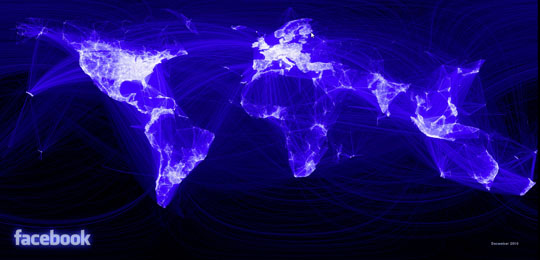 This image shows global Facebook traffic. Social networks like Facebook have helped genealogy grow.
Some Final Thoughts
In this article we have shown that about 1 out of every 200 queries on the internet are for genealogy and the field grew at 21% in the first three months of 2012. This is remarkable.
Clearly the trend towards more and better quality ancestral records coming onto the internet is the major factor driving the field of genealogy. Easier access to genealogy records is actively highlighted by advertising campaigns from organizations like Ancestry. In addition, television shows like Who Do You Think You Are help raise general awareness about the impact ancestors have on our lives. Many governments and large organizations such as FamilySearch have also thrown their considerable resources into making more ancestral records available to the public. And finally, the bedrock of genealogy has been and probably always will be genealogy societies and the countless number of people who volunteer their time, effort and skill to help others find their ancestors.