Soundex Coding Rules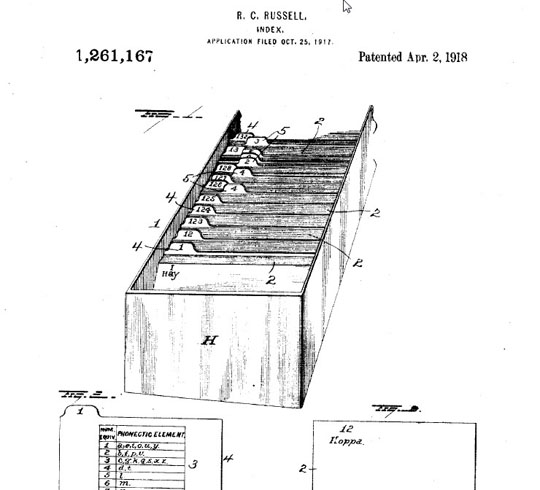 Robert C. Russell originally developed the Soundex system in 1918 (US Patent No 1,261,167 Russell). It was further developed in 1922 by Russell and Margaret K. Odell (US Patent 1,435,663 Russel and Odell). This is an image from the original patent application.
The Russell Soundex Code, as it is sometimes known, consists of a letter and three numbers:
The letter is the first letter of the family name, with the following exceptions:

With a multi-word family name, or a hyphenated family name, or a name with an apostrophe ('), then only the last part of the name is coded. For example, for a family name of Smith-Jones, the Smith would be ignored and it would code as Jones (J-520).
For family names that begin with a prefix (common prefixes are L', Le, La, D', De, Di, Du, Dela, Con, Von or Van), the prefix is usually ignored. However, this rule was not universally applied to all the U.S. censuses and thus it is necessary to search for family names with and without prefixes. For example, Lebrun can have a Soundex code of L-165 or B-650. Note, however, that Mc, Mac and O' are not considered prefixes and, therefore, must be included in the soundex code calculation.

Numbers are assigned to the remaining letters in the family name reading from left to right based on the phonetic sounds of each letter, as follows:
| Number | Represents the Letter | Phonetic Description |
| --- | --- | --- |
| 1 | B, F, P, V | Labial sounds and labio-dentals (require particular use of the lips). |
| 2 | C, G, J, K, Q, S, X, Z | Guttural sounds (produced in the throat) and sibilant sounds (requires a hissing noise). |
| 3 | D, T | Dental-mute sounds (formed with the tip of the tongue against the teeth). |
| 4 | L | Palatal fricative or long liquid sound (produced by a long contact of the tongue and mouth). |
| 5 | M, N | Nasal sounds (produced partly through the nose). M is labio-nasal and N is dental or lingua-nasal. |
| 6 | R | Dental fricative or short liquid sound (produced by a slight contact of the tongue and mouth). |
| Discard | H, W | Disregard consonants H and W. |
| Discard | A, E, I, O, U, Y | Disregard vowels. |
Zeroes are added to the end of short family names (if necessary) to produce three numbers. For example, the Soundex code for Bailey is B-400. Likewise, additional letters in a family name beyond the ones necessary to achieve the first three numbers are disregarded. For example, the Soundex code for Johnston is J-523; the last letter 'n' is disregarded.