The Death of Google Reader
When Google announced the end of the Google Reader service, the company cited some obvious issues: the high cost of maintaining the product coupled with the inability to generate revenue from the service. We can think of a couple of other reasons why Google unplugged Google Reader as part of their "spring cleaning":
• The company has put its focus on Google Plus, their social network platform. Unfortunately, user uptake on Google Plus has been slow and the company is having difficulty competing against Facebook. Part of the problem was Google Reader, which overlapped somewhat with Google Plus in terms of information gathering and sharing capabilities.
• Having millions of users in the Google Reader silo did not help Google convince people to switch to Google Plus. The company is hoping most former users of Google Reader will switch to Google Plus.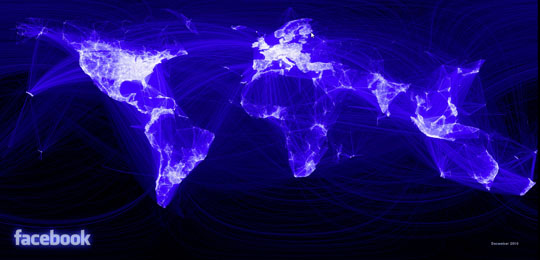 In spite of the fact Google+ has reached 400 million users, Facebook continues to dominate as this global map of Facebook traffic shows.
• Apparently, the engineers who worked on Google Reader understood social networks better than anyone else at the company. Google wanted them to focus on Google Plus instead of Google Reader. This is not the first time Google has pulled engineers off one social product to work on another.
• In 2009, Google pulled social engineers off a product called OpenSocial to work on another product called Google Buzz. OpenSocial was allowed to die. Eventually, Google Buzz was also killed off. Thus, the recent death of Google Reader is just the latest round of Google killing off products they no longer need or want. In fact, Google has discontinued dozens of products over the years.
• Google Reader did not create content (unlike Google Plus). Instead, Google Reader was a means of efficiently gathering and sharing information from other websites. Copying entire articles from another website exposed Google to potential future legal liability. This is driven by the recent trend of internet content creators moving aggressively to protect their copyright.
• Part of the trend towards greater copyright protection on the internet has been driven by the number of online newspapers like the New York Times that have put up a firewall and started to charge for their content. Google has been caught up in this movement. For example, the company recently experienced issues with French newspapers, who accused Google of copying too much of their content. The days when products like Google Reader can copy entire articles from another website are probably numbered.