Intelius
Intelius is actually a public records business that sells background checks on individuals. They also offer a free people search engine based on the Spock search platform, which they bought in 2009. Intelius has one of the strongest people-search engines on the internet. The Advanced Search page (shown below) will be familiar to genealogists and others who search archive records. Incidentally, don't bother with the basic search page; it is too simple. Go directly to the Advanced Search page.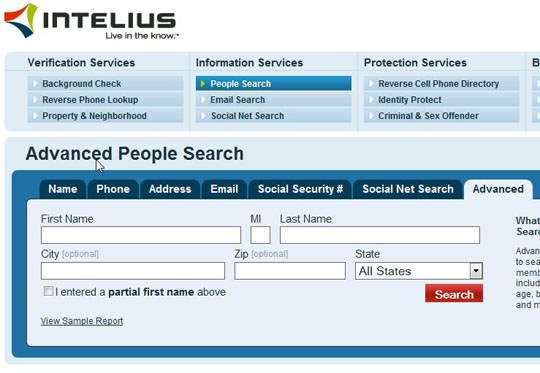 There are a couple of issues when using the Intelius people search page that you need to understand:
• When looking for a person by first and last name, you need to put the entire name in quotes. For example, if you are looking for John Smith you must enter the name as "John Smith" (with the quotation marks). If you simply type in John Smith then you will get results for "John" and for "Smith", which is probably not what you want.
• The Intelius search engine will find people from all over the world. However, there is a bias towards finding people located in the United States. If you are looking for someone outside of North America, then you may want to first try one of the other people search engines listed in this article.
• Intelius is particularly strong at finding people who are on social network sites. This would include sites such as Facebook, MySpace, Friendster, LinkedIn, YouTube, Flickr, and Twitter. In fact, Friendster uses the Intelius search engine, so don't bother going to Friendster to look for someone. Similarly, you don't need to bother going to LinkedIn, the popular business social network site, because the Intelius people-search engine will pick up everything from that site. Intelius is also strong at searching university faculty, staff and alumni sites.
• Many other people search engines (particularly the pay-per-view search engines) actually use Intelius as their search engine. This is one more reason why you should not bother wasting your time on some of these fee-based websites or websites that require you to register, which is often just a means to collect personal information from you.