The 2016 Top 100 Genealogy List
We encourage our readers to take some time looking through the Top 100 List. A couple of things are worth noting:
• Every year, we are seeing more and more websites appearing on the Top 100 List from non-English speaking countries. Genealogy is truly becoming a global phenomenon. You can use this to your advantage. For example, say you have ancestors from Germany. It might be worthwhile checking out some of the German websites on the Top 100 List for ideas and leads for your German ancestors.
• Certain classes of genealogy websites continue to become more popular every year. In particular, websites associated with DNA testing are gaining steady traction. This year, new DNA websites have come onto the list and existing DNA websites are moving up the list.
• This year, we are also seeing more websites associated with genealogy services. The most popular new service appears to be storing, aggregating and analyzing ancestral family photos.
• With the exception of Cyndi's List (which is still going strong at #33), we are tending to see fewer websites devoted purely to links.
• We are also tending to see are fewer websites run by individuals. As the genealogy industry continues to grow, corporate websites are becoming more dominate.
The Top Ten Genealogy Websites
The table below breaks out the top ten most popular genealogy websites for 2016.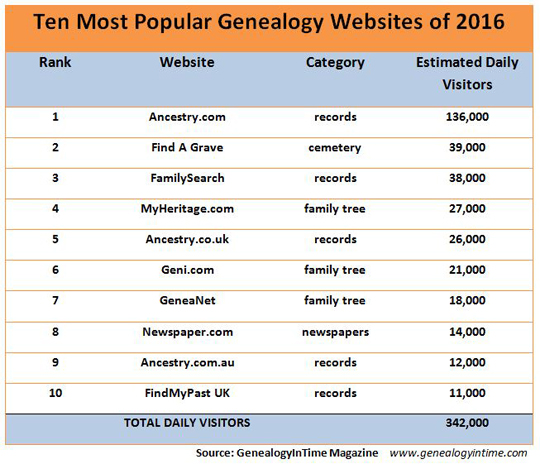 As in past years, the most popular categories in the Top Ten List are record websites and family tree websites.
A couple of things to note about the ten largest genealogy websites:
• The website Ancestry.com continues to dominate genealogy. It is a juggernaut. In fact, more than one out of every seven visitors to all genealogy websites combined goes to Ancestry.com. It also gets more than three times the traffic of the second most popular genealogy website Find A Grave (which it also owns). Perhaps this is not surprising considering how prominently Ancestry advertises on television in all their major core markets.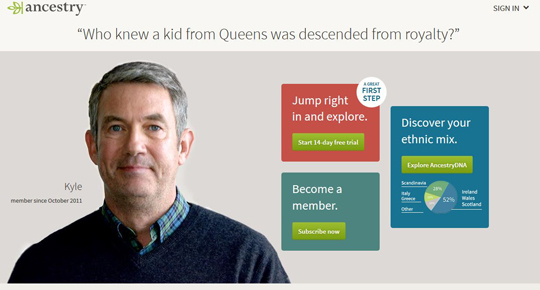 Ancestry is by far the largest player in the genealogy space. We estimate the various Ancestry websites get about 43% of all the the traffic to the
Top 100 List
. The websites they own include Ancestry.com (#1), Find A Grave (#2), Ancestry.co.uk (#5), Newspapers.com (#8), Ancestry.com.au (#9), Ancestry.ca (#12), Archives.com (#13), Genealogy.com (#16), Fold3 (#18), Ancestry.de (#30), Ancestry.se (#58) and ProGenealogist (#69). They just sold FamilyTreeMaker (#89).
• One interesting thing to note (as we reported in Genealogy News) is that Ancestry.com has not been adding many unique new genealogy record sets this year (one exception: Irish parish records). This trend has been going on since the summer of 2015. Ancestry is adding records, but most of the new additions have come from FamilySearch or have been scrapped from free online resources. And yet traffic continues to grow to their website. We suspect part of the website's recent growth is due to their recently expanded push into DNA testing.