• For the last couple of years, Find A Grave and FamilySearch have been battling it out for the number two and number three spot on the Top 100 List. This year (according to our calculations), Find A Grave edged out FamilySearch with about 1,000 more visitors a day on average.

Since Ancestry bought Find A Grave about two years ago, the website has continued to grow. It now has about 142 million cemetery records online.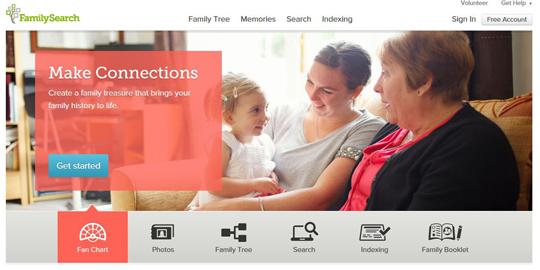 In the past year, FamilySearch has rebuilt much of their website to make it easier for people to find records and assemble them into family trees.
• A similar situation has occurred between MyHeritage.com and Ancestry.co.uk. This year, MyHeritage managed to grab the number four spot from Ancestry.co.uk.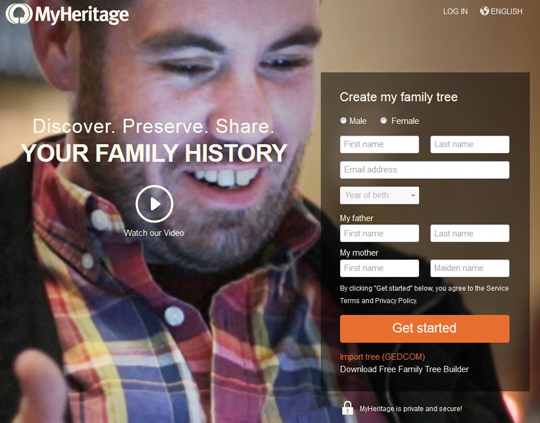 MyHeritage runs a number of websites under the MyHeritage banner, including MyHeritage.com, MyHeritage.de, MyHeritage.es etc. In total, there are 10 MyHeritage websites in the
Top 100 List
. The principal difference between these websites is that each has been customized to a specific language. For example, MyHeritage.com is in English while MyHeritage.de is in German. If MyHeritage were to aggregate all their websites under one web address, they would comfortably be the second largest genealogy website. MyHeritage also owns Geni.com (#6), World Vital Records (#62) and FamilyLink (#71). We estimate they get 12% of all traffic to the top 100 genealogy websites.
• Another family tree website owned by MyHeritage is Geni.com. Geni.com managed to pass GeneaNet to grab the number 6 spot.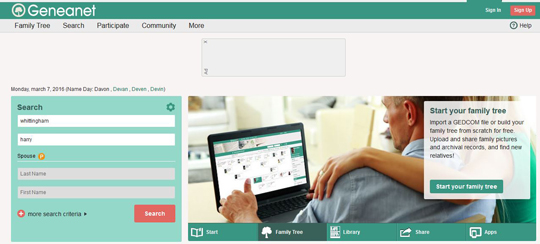 Geneanet is a popular family tree website based in Europe. The website has 2 million members who have contributed 3 billion ancestral records across 600,000 family trees.
• Last year, the number eight spot was held by Genealogy.com. For those with a long memory, Genealogy.com was once the online source for the A&E television network back in the day when A&E made a big push into genealogy. They eventually got out of the business and sold the website to Ancestry, who in turn announced last year (see Genealogy News) that they were no longer going to be active in updating the website. As a result, Genealogy.com has dropped to #16 this year. In its place at number eight for 2016 is Newspapers.com, another Ancestry website that is devoted to historic newspaper records.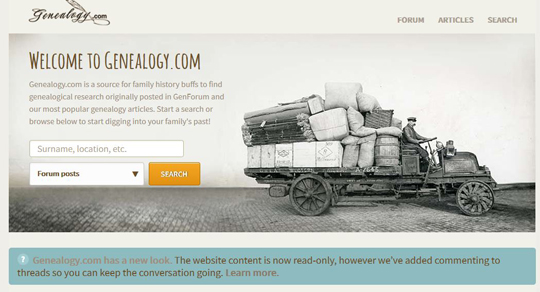 Ancestry has quietly revamped the look of their Genealogy.com website. Above is the new look. Below is the old look. As clearly stated on the new home page, the web content is not being updated. Ancestry is likely to relaunch this website sometime this year. The Genealogy.com web address is too valuable a domain name to be left alone.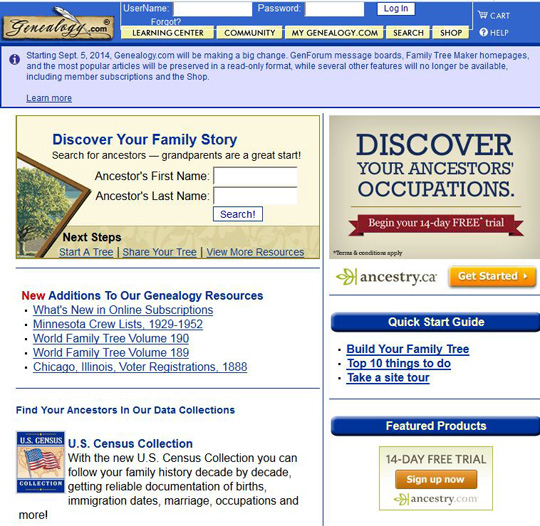 • Rounding out the top ten this year are Ancestry.com.au at number nine and FindMyPast UK at number ten, the same as last year.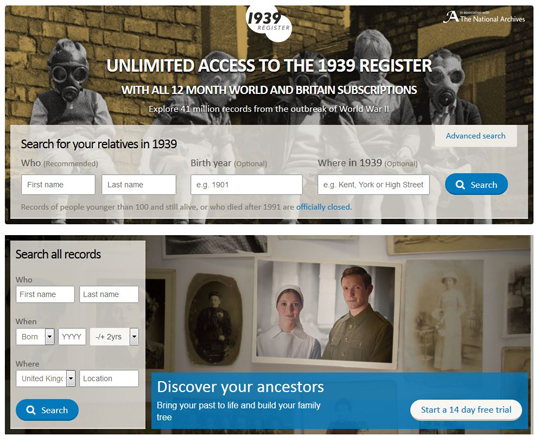 FindMyPast UK (#10) is the flagship website of FindMyPast. They also own or operate other popular websites on the
Top 100 List
including FindMyPast.com (#22), Genes Reunited (#29), Mocavo (#32), British Newspaper Archive (#45), Scotlands People (#51), FindMypast Ireland (#66) and FindMyPast Australia (#75). We estimate they get 5% of the traffic to the top 100 genealogy websites.
• As we have noted before, it is interesting that Ancestry's Australian website (Ancestry.com.au at #9) gets more traffic than their Canadian website (Ancestry.ca at #12) even though both are immigrant countries and Canada has 1.5 times the population of Australia. Perhaps genealogy is more important in Australia than it is in Canada or perhaps Ancestry has less competition for genealogy records in Australia than they do in Canada.