Genealogy Websites Worth Knowing
Finally, we would like to talk about some genealogy websites worth knowing. These are websites that just missed the cut for the Top 100 List. Some of these websites have been on the list in past years; others seem to always be just beyond the cut-off year after year. We have a soft spot for many of these websites because most have been around for years faithfully serving the genealogy community.
This year, we thought we would give a shout out to these websites, as shown in the table below.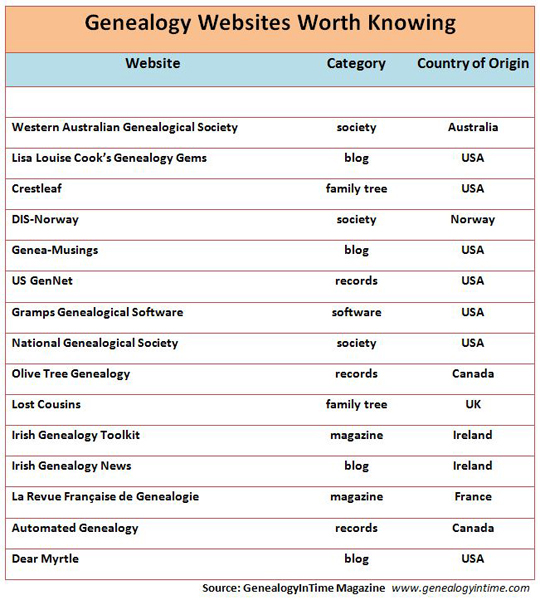 These are genealogy websites that just missed the cut-off for the
Top 100 List
. The websites on the list above are organized from closest to farthest from the cut off. Many of the names on this list will be familiar to our readers.
• There are three societies on this list (Western Australian Genealogical Society, DIS-Norway and the National Genealogical Society). All these genealogy societies do great things for the genealogy community.
• Blogs are also well represented in the list above. The most popular blogs that just missed the top 100 cut-off were Lisa Louise Cook's Genealogy Gems, Genea-Musings, Irish Genealogy News and Dear Myrtle. To call them blogs is actually an understatement as many of these websites are so much more. All have been active in the genealogy community for a number of years and are worth checking out.
• There are also two incredibly useful family tree websites on this list (Crestleaf and Lost Cousins). We have talked about both websites in the past and both are worth checking out.
• All three of the record websites on the list (US GenNet, Olive Tree Genealogy and Automated Genealogy) provide free genealogy records. They should be consulted by anyone looking for ancestors in the US (for US GenNet) or Canada (for Olive Tree Genealogy and Automated Genealogy). These websites can also be searched using the Genealogy Search Engine on our website.
• Gramps Genealogical Software is a popular and free family tree software that has probably gained in popularity since Ancestry first abandoned (December 2015) and then sold (January 2016) their Family Tree Maker software (see Genealogy News).
• Finally, it is good to see that genealogy magazines are alive and well, at least on the internet. Irish Genealogy Toolkit and La Revue Française de Genealogie both seem to be doing just fine.